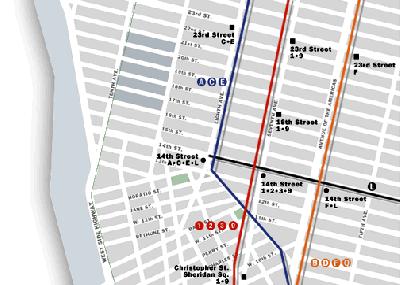 20th Street
John used to live on 19th St between 8th and 9th Avenues and got to know the hidden treasures of this non-descript area. Start out by the Hudson River at the Chelsea Piers for rollerblading, golf, ice skating and rock climbing. A few blocks south is the Dia Art Foundation Museum - the glass roof garden and huge loft spaces is the ultimate NY art experience. The Empire Diner on 10th Ave is a classic railroad chrome diner next to one of the most charming historic districts in the city. Keep going east on 20th to 6th Avenue and you'll be in Megastore heaven - Barnes and Noble, Bed Bath and Beyond, and Old Navy stores all in restored early 20th C. department stores. At 5th Ave, go south and check out the chic stores of Lower Fifth Avenue - Eileen Fisher, Kenneth Cole, and Emporio Armani have all arrived here in the past 5 years.
Union Square
Once the domain of crack sellers, Union Square is now a vital and fashionable place to see and be seen. The beautiful people congregate at the Coffee Shop at the northwest corner of the Square. The Union Square Greenmarket on M,W,F and Sa is must-see. Jersey fresh produce and abundant samples allow you to indulge in the traditional NY pastime - noshing. Go up Broadway and browse at ABC Home and cross the street to see the latest sports stuff at Paragon. Lastly check out Fishs Eddy at 20th St and Broadway for diner china and other stuff.

Also check out
26th Street Antique Market - the antique market of the stars, 18th Street used bookstores, Chelsea Hotel where Sid Vicious OD'd, Barney's Downtown on 15th St/7th Ave, Joyce Theater for modern dance, the Billard Club, the Kitchen performance art space.

Restrooms:
Barnes and Noble on 6th Ave or Union Square, Dia Art Foundation, Seattle Coffee Roasters, ABC Home

Elephant and Castle
Old standby on Greenwich Ave and 7th Ave, try the chicken with lime and angel hair pasta or the Britishburger with Stilton cheese.
Mayrose
Huge windows overlook Broadway and 22nd sts from this chic brunch spot, diner food like meatloaf reinterpreted for an up-to-date crowd.
Zip City
NYC was slow to pick up on brew pubs, this is the reigning king - beautiful copper vats in the center of the room, dark, musky food - perfect way to end up antique book shopping along 18th Street
Limelight
A nightclub in a deconsecrated Episcopal church, party down with the club kids in the nave, co-ed jello wrestling on Thursday nights.