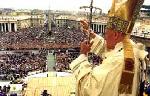 We ended up leaving Rome for Sorrento because the Pasqua had locked up all the rooms in the city for the entire week. We finally got to Sorrento on Good Friday and lucked out on a hotel in the center of town overlooking the main street. Sorrento is still a tourist town, though. Populated by British and German tourists, the town sported Benettons on every corner, as well as a large Emporio Armani across the street from the hotel. We asked at the desk for a good, cheap place to eat and the clerk suggested Le Marine, around the corner and up the hill a few blocks. It was a down home trattoria with large Italian women cooking and shelling seafood at the tables. Famished from our long train ride, we had antipasto first courses, pizzas and wine, all for about 11,000 lire each. It was wonderful and filling.

We ended up falling asleep around midnight because of all the traffic noise outside our balcony window. Thinking now I'd finally get the full night's sleep I'd been craving since I started this trip, I felt very relaxed with a bottle of wine in me. Suddenly, at three AM, I heard a trumpet blaring outside the window. I remember very clearly how much of a shock it was - I almost tumbled out of bed. Max woke up also, thinking a radio or car horn sounded. I walked to the green wooden louvers at the balcony window and cracked open the shades. I couldn't believe what I saw.

Thousands of people were lined up along both sides of the street watching a parade. But, it was deathly quiet. No talking, no shouting, only the lonely trumpet player, and in the distance a choir. Dressed in green hoods and robes, the parade marchers carried torches. To my uninitiated eye, it looked liked a Ku Klux Klan rally. To the people of Sorrento, it was the Good Friday procession.

Want to hear the choir?