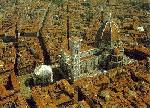 The Pensione Esperanza is located at the corner of Via dell'Inferno and Via dell'Purgatorio. My experiences in Florence, however, have been pure paradaisical. There is a certain style of life here in Italy. At first I thought it was mythical, but the food, the clothing, the city, the people -- the cliche is real - the city is full of life.

With this newfound attitude in mind, I was sketching during the Sunday afternoon siesta, when a 16 year old Italian schoolgirl named Julia looked over my shoulder and asked me where I was from. "Sono Americano di California." I say. She promptly sat down next to me, seemingly intrigued by my California reference. She wore a tailored maroon jacket and short black skirt, with what seemed to be expensive metal rimmed sunglasses. She was very well dressed for her age, but then again, what Italians aren't well dressed for their age. She asked me if I was an artist. I say, "No, no, sono arquitecto. At this point, the rest of her class, wondering what Julia has found so interesting, crowd around me. I dont normally like being the center of attention, so when thirty pairs of sunglassed eyes staring at my weak practice sketch keep saying "Bello, bello," the first words that come to my mind in response are "Ah, cosi, cosi -- so, so."

It turned out the kids had never been to Florence, their home was in Lecco, north of Milan. Julia asked if she could have a picture taken with me and her friends. Confused, I asked her "Why?" which she thought meant "Yes, of course." So with thirty Italian high school kids surrounding me, I smiled and said "Parla formaggi!" I realized, yeah, I guess this is what I came to Italy for - meeting the natives.